Wine festivals celebrate the viniculture of a region by presenting a variety of wineries and labels in one place. As part of the National Mexican Wine Day on October 7, Los Cabos will celebrate the first festival with national wine.
Organized by Club del Corcho and Club Rotario del Mar. The event is aimed at all wine lovers: oenologists, sommeliers and enthusiasts who wish to expand their knowledge about wine production in this country.
"Mexico was the first Latin American country to make wine. Although there are some wineries that are better known than others, the national territory produces very interesting wines. To highlight some finds in Baja California Sur are: El Vizcaíno winery, Desert Wine from Ciudad Constitución and a small winery from Todos Santos." Ariel Morgan Roberts, festival organizer.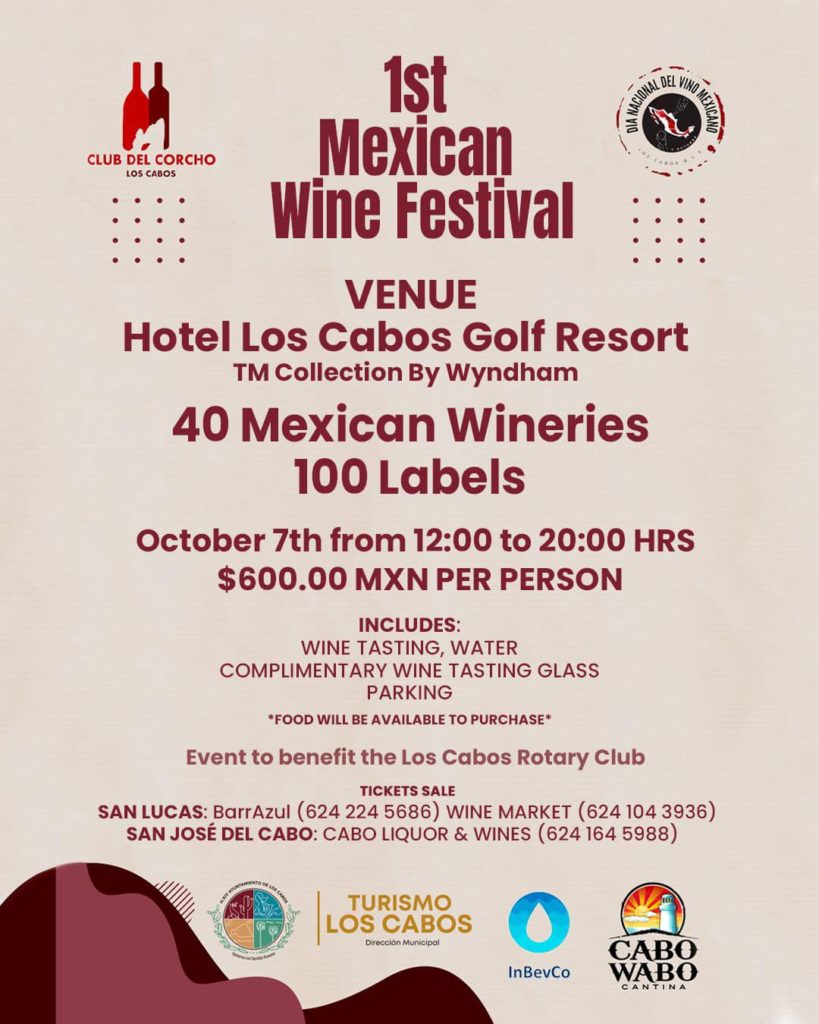 The first Mexican wine festival in Los Cabos has had great acceptance and support, so all the proceeds from ticket sales will go to the scholarship program for children of the Club Rotarios del Mar. The cost of the ticket is $600mxn , for sale in Cabo San Lucas: The Wine Market & Restaurant Barrazul and San José del Cabos: Cabo Liquiors & Wine.
The number of people expected is around 250 over the course of the day. An open schedule format will be maintained between 12pm to 8pm, where attendees can arrive at any time for wine tasting.
What to expect?
• 118 labels
• 44 wineries
• Producing areas: Chihuahua, San Luis Potosí, San Miguel de Allende, Querétaro, Baja California Sur, Aguascalientes, and Coahuila, among others.
• 2 ounces per tasting
• Saratoga Water
• Commemorative glass of wine
• Bottles ranging from $500mxn – $2,000mxn, which will also be available for sale
• A varied food menu from the hotel, with an additional cost to the ticket
Jose Gutiérrez, general manager of the hotel venue, Los Cabos Golf Resort by Windham, commented that the menu has been designed with a wide variety of dishes that can pair well with most wines. In addition to this, the sommeliers and winemakers present at each stand can suggest a recommendation so that each attendee can enjoy their own tasting and pairing experience.
7 recommendations that every foodie should follow to enjoy a wine festival:
1. Ideally test from the mildest to the strongest wine: white, rosé and red. Considering sweet and sparkling wines to accompany a dessert.
2. On average, the palate can remember and enjoy the notes of 15 to 20 labels.
3. The notes on the nose and palate are different for each person, so enjoy your experience and let yourself be guided by what feels good in your mouth.
4. Choose dishes that highlight the notes on each label. Remember, the hotel menu will have a wide variety of dishes for sale, you can ask for a recommendation to make an ideal pairing.
5. Stay hydrated! The rule is one glass of water for every glass of wine.
6. Download an app to get more information about the wines you like. A good recommendation is: Vivino app
7. Take a picture of your favorite labels, so you can add them to your personal cava. Take advantage of on-site sales and take a bottle home!
Without a doubt, this is a must culinary experience that should be on your list for the month of October. The invitation is for anyone who wants to try new Mexican wine labels and proposals.